RENTAL OF MATERIAL FOR CINEMA, SERIES AND EVENTS
Cable Cam
Security

Second line of 200m

Above the audience

For mass events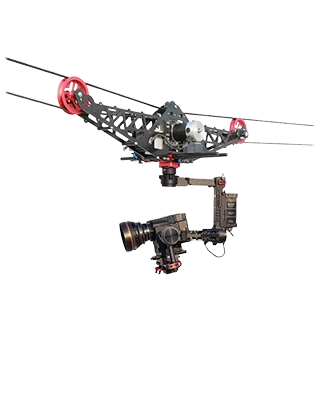 The Cable Cam is a highly versatile and incredibly useful tool. It is a camera that travels on a rope hung at two ends with a maximum length of 200 metres.
It travels at speeds of almost 50km/h and allows us to take spectacular aerial shots, very long crossings and follow mobiles with absolute precision and maximum safety.
It is usually used for different functions such as events, concerts, urban circuits and spaces where the flight of the drone is not possible due to regulations.
It is especially suitable for shots of the public.
Includes
Full HD video transmission + SDI output
Camera operator
Cablecam technician
Liability insurance
200m cable + 200m safety cable.
Spaces where the flight of the drone is not possible due to regulations.
Particularly suitable for shots over the public.
Cameras
Lenses
With offices in Spain, USA and France, Airmedia360 offers innovative solutions for the audiovisual production and aerospace industries.
Airmedia360 has a presence in all major Spanish cities, including Madrid, Barcelona and Tenerife.
In addition, the company operates in all of the country's autonomous communities, providing services in Andalusia, Aragon, Asturias, Cantabria, Castilla y León, Castilla-La Mancha, Catalonia, Valencia, Extremadura, Galicia, Illes Balears, La Rioja, Madrid, Murcia, Navarra, the Basque Country, the Canary Islands and Ceuta and Melilla.
As a drone manufacturer, Airmedia360 offers a wide range of high quality drones to meet the needs of any project. From small, portable drones to large-scale flight systems, Airmedia360 has a solution for any audiovisual production need.
The company also offers a drone rental service at all of its locations. With a large fleet of drones available.