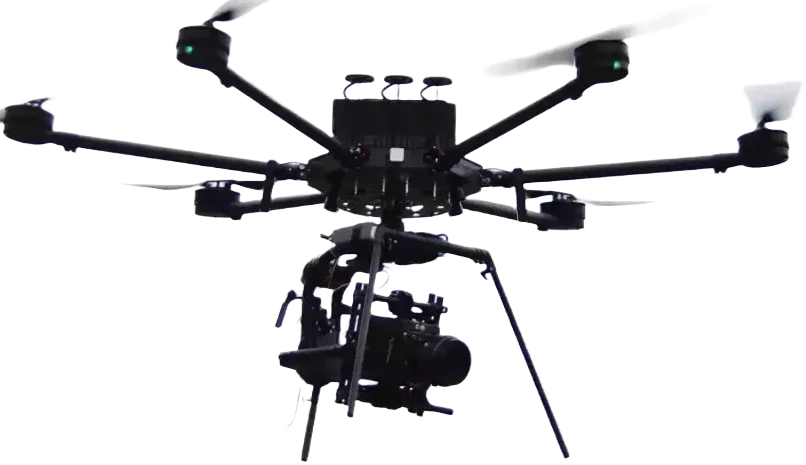 STRATOS HL-25 is Europe's largest drone created for film and advertising. It is a unique drone in the international market.
Capable of mounting any type of camera and lens thanks to its built-in camera mount.
It is used for high quality recordings, offering extraordinary top-of-the-range performance. Maximum speed, agility and stability withstanding winds of up to 45km/h.
In addition, it is subject to modifications to ensure image stability and flight precision, seeking perfection for customer projects.
Includes
Cameras
Lenses
Focus Motor
Includes
Pilot, camera operator, observer
Processing of AESA permits
Zumo 19″ monitor for client + recorder
Full HD video transmission + SDI output
Civil liability insurance
Intercom for pilot, camera operator and spotter communications
*Possibility of control and long range focus/diaphragm motors
Cameras
Lenses
Focus Motor
With offices in Spain, USA and France, Airmedia360 offers innovative solutions for the audiovisual production and aerospace industries.
Airmedia360 has a presence in all major Spanish cities, including Madrid, Barcelona and Tenerife.
In addition, the company operates in all of the country's autonomous communities, providing services in Andalusia, Aragon, Asturias, Cantabria, Castilla y León, Castilla-La Mancha, Catalonia, Valencia, Extremadura, Galicia, Illes Balears, La Rioja, Madrid, Murcia, Navarra, the Basque Country, the Canary Islands and Ceuta and Melilla.
As a drone manufacturer, Airmedia360 offers a wide range of high quality drones to meet the needs of any project. From small, portable drones to large-scale flight systems, Airmedia360 has a solution for any audiovisual production need.
The company also offers a drone rental service at all of its locations. With a large fleet of drones available.